Who Is Master Chung Kim?
We are very fortunate to have Grandmaster Chung Eun Kim as our mentor. Grandmaster Kim started his career in martial arts as the senior instructor in martial arts for the marines in the Republic of Korea. Later he opened martial arts schools in Seoul, Korea and quickly became a leader in developing top-ranking students, with many students earning National Recognition awards. Master Kim was recognized by the President of South Korea for his demonstration teams. These schools are still operating today.
Grandmaster Kim immigrated to the United States in 1971. He helped his friend Master He Il Cho teach Tae Kwon Do in Rhode Island. He eventually started Chung Kim's Black Belt Academy in Davenport, Iowa, and several years later opened the Family Fitness World school in Bettendorf as well. He now operates these two schools himself and has ten branch schools operated by his black belts.
Grandmaster Kim states, "When I first opened my school I trained my students just like the military and with the old ways of Korea. It was very hard and very difficult training. My students soon dominated all the local and Midwestern tournaments. The training today is different; some things are better and some things less better. The techniques are the same but the harshness of discipline and training have been eased to accommodate a more broad range of students who can benefit from what Tae Kwon Do has to offer.
Culturally, Americans are more independent thinkers and do not bend to the traditional methods that Koreans more readily accept. Again, this is both good and not so good. That is not to say all of my students could not or would not train in the "Old Ways" but by learning from my students about their culture I have been able to show them much of mine and both sides have benefitted."
In 1980, Grandmaster Kim started publication of Tae Kwon Do Times magazine, now one of the leading martial arts magazines. Chung Kim considers his Tae Kwon Do students part of his family. His dojang, or training hall, in Bettendorf, was converted from a racquetball club to a Tae Kwon Do school by Master Kim and his students. This involved an incredible amount of work, including tearing down and rebuilding walls and floors, tasks that his students did freely for him because of their close bond. Grandmaster Kim presently has hundreds of black belts to his name, many of whom, like Duane and Linda Spellious, continue to do him honor by passing his training on to others.
What does the future now hold for Grandmaster Kim? "A true master does not quit or fool himself into believing he knows all there is to know about his art. He must learn and share all he can of his art with others. He must help bring the past traditions to the new ways, and the new thoughts and attitudes to the "Old Ways" so the true spirit of Tae Kwon Do never withers and dies."
About Us
People who practice the martial arts are different from the general population in several ways. They have a lower level of anxiety; an increased sense of responsibility; a decrease in the willingness to take risks; they are less radical; they have an increased level of self-esteem; and they are more socially intelligent.
CHUNG KIM BLACK BELT ACADEMY MEMBERS ARE MOTIVATED TO EXCEL TO THEIR MAXIMUM POTENTIAL AND REACH THEIR OPTIMAL MENTAL AND PHYSICAL CAPACITIES.
MARTIAL ART TRAINING
While tightening, toning, stretching, and strengthening your body you'll be learning self-defense techniques thousands of years old. The ancient martial art and current Olympic sport, Tae Kwon Do, is for the entire family and is taught afternoons and evenings for your convenience.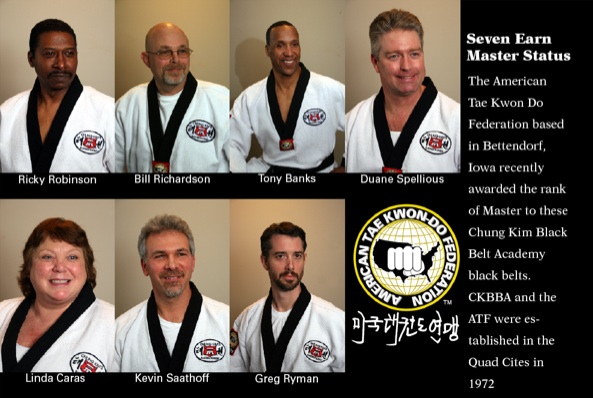 We Offer
Tae Kwon Do
Yoga
Hap Ki Ye
Day & Evening Classes
Quality Instruction
Modern Facilities
Private Lessons